Several Factors Affecting the Output of Sawdust Pellet Machine
---
Sawdust pellet machine equipment is an important equipment in the production. Zhangqiu developed pellet machinery company has been focusing on pellet machine, sawdust pellet machine, sawdust pellet machine, biomass pellet machine, drying equipment, cooling equipment and packaging equipment for many years.
Wood pellet machine equipment is an important equipment in production, so in the production process, what factors can affectsawdust pellet machineWhat about the output of the equipment?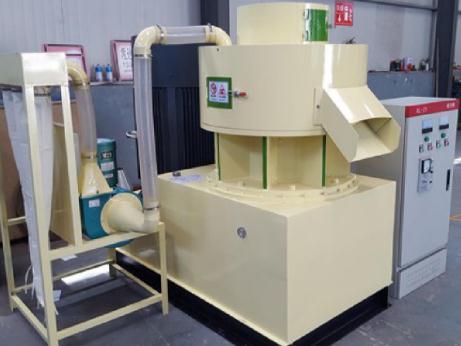 The following Zhangqiu developed particle machine to introduce to you, several major factors affecting the output of wood pellet machine:
1, grease. Increase the grease by 0.5 to 1%, which is beneficial to reduce the wear of the wood pellet machine parts, and make the particles easily pass through the die hole, increasing the output. Note, however, that when the amount of grease is increased beyond 2%, it may be difficult to form the pellets. Therefore, when increasing grease, it is advisable to increase 30% of the total amount at the mixer and 70% of the total amount at the granulator.
2, starch. Cereals have a high starch content and are easily granulated at high temperatures and high moisture. Therefore, the moisture of the tempering is between 16% and 18%, the temperature is above 80 ℃, and the output of the granulator is also high. If the grain is already matured before tempering (e. g. dry corn), the output of the granulator will be reduced.
3, heat sensitive.MaterialsThe viscosity of lactose, whey powder, etc. increases after heating, which helps to increase the yield, but if the temperature exceeds60 degrees C, it is easy to present coking, will block the mold hole, affecting the yield.
4. Crude fiber. Appropriate crude fiber (content 3% ~ 5%) is conducive to the bonding of granular materials and increases the output of granulation. However, when the content of crude fiber exceeds 10%, the bonding property of the material will deteriorate, which will affect the hardness and forming rate of the particles, increase the mechanical wear and reduce the output of the granulator.
5. Material humidity. When the humidity of the material is too high, it is difficult to adjust the quality and easy to form the material to slip between the inner wall of the ring die and the pressure roller, resulting in the blocking of the ring die hole. Generally speaking, the material moisture before tempering should be below 13%.
6. Minerals. inorganic matterMaterialsAlmost no cohesive force, poor granulation function. Therefore,When the inorganic content in the material is too high, a small number of binders are usually added to the material to improve the granulation function and increase the output of the granulator.
The above introduction is the impactsawdust pellet machineProduction of several major factors, I hope you can help!