Developed particle machinery sharing: how to maintain biomass pellet machine
---
The biomass pellet machine also needs maintenance when it is working. Zhangqiu City developed particle machinery over the years the company focused on sawdust pellet machine, sawdust pellet machine, biomass pellet machine and other products research and development production.
The biomass pellet machine can make corn stalks, rice husks, forage grass, branches, tree stalks, bark, cotton stalks and other raw materials into fuel or feed. It is the preferred equipment for protecting non-renewable energy and creating new environmentally friendly energy. It has appeared in all aspects of our lives and demonstrated its own unique functions. However, no matter what equipment needs maintenance,Biomass pellet machineWhen the work is running, it also needs maintenance. What should be done at this time? (developed particle machineMechanical Sharing: Healthsubstance pellet machineHow to carry out maintenance)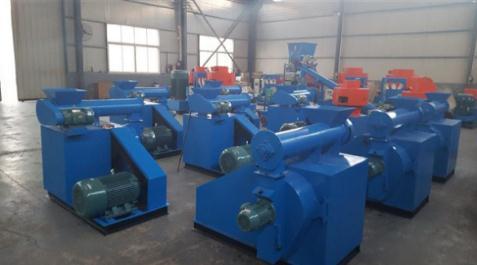 Next, the developed particle machinery will share some tips for maintaining the biomass pellet machine:
1. Once a month, regularly check the accessories of the biomass pellet machine, including worm gears, worms, lubricating blocks, bolts, bearings and other movable parts for flexible rotation and wear. If defects are found, they should be stopped and repaired in time;
2, should be used in a dry and clean indoor biomass pellet machine, shall not be used in the atmosphere containing acids or other corrosive gas circulation places;
3. After the biomass pellet machine is used, the drum should be taken out for cleaning, and then installed properly to prepare for the next use;
4. When the roller moves back and forth during work, please adjust the front bearing pawnM10Screw into position. If the gear shaft moves, adjust the back of the bearing frame.M10Screw to the proper position, adjust the clearance so that the bearing does not produce noise, hand pulley, tightness is appropriate, too tight or too loose can cause damage to the machine;
5. If the biomass granulator is out of service for a long time, the whole body of the machine must be wiped clean. The smooth surface of the machine parts shall be coated with anti-rust oil and covered with cloth.
Zhangqiu City, Shandong Province developed particle machinery Co., Ltd., over the years the company focused on the pellet machine, wood pellet machine, sawdust pellet machine, pellet machine production line, biomass pellet machine, crusher, wood processing equipment, drying equipment, cooling equipment and packaging equipment and other products research and development and production, has reached the international advanced level, the company has been awarded every year since its establishment"Advanced Quality Unit" and "Quality Trusted Unit" and other honorary titles, and was recognized as the national quality, reputation, serviceAAAThe products quickly cover the domestic market and are exported to the market.90Multiple countries and regions.
The company has always pursuedThe principle of "quality first, reputation first", in line with the purpose of "survival by quality and benefit from development", makes the developed machinery play its own advantages and gradually expand its scale. (developed particle machinesharing:Bornsubstance pellet machineHow to carry out maintenance)