Advantages of sawdust pellet machine
---
Zhangqiu city in shandong province developed particle machinery co., ltd., over the years the company focused on pellet machine, sawdust pellet machine, machine, biomass pellet machine packaging equipment and other products research and development and production
In the energy industry, traditional coal, natural gas and other traditional energy, that is, limited and not environmentally friendly, and biomass energy is not only a wide range of raw materials, but also can be recycled. Agricultural waste, forestry waste, domestic waste, etc. can become its raw materials, and the ash after combustion can also be used as potash fertilizer to supply crops, which is very"The Future". Sawdust pellet machine is a very popular biomass energy production equipment.(sawdust pellet machineadvantage)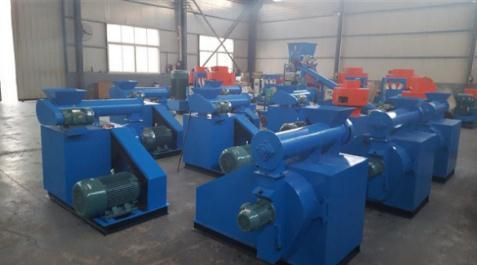 The sawdust granulator has a wide adaptability to the moisture content of raw materials. Therefore, most raw materials can be directly used for granulation without drying, and the temperature rise after molding is only10-15 ℃, can be directly packaged without cooling, thereby reducing the drying and cooling operations, so that the overall system energy consumption is reduced a lot, while equipment wear is also greatly reduced. The biomass pellet fuel produced by the equipment has the advantages of high specific gravity, high calorific value, resistance to combustion, and can replace traditional energy sources.
In addition to ordinary household use, biomass energy can also be widely used in commercial and industrial fields. China's sawdust particle machine equipment manufacturing enterprises have gradually shifted from price competition to product performance, quality and service quality competition. In order to achieve the ideal power generation output and sustainable income, sawdust particle machine manufacturers have also begun to pay more attention to the quality of engineering construction and power station operation and maintenance management. When we use it, we should watch whether the power supply of the machine is in good contact. This is not only for the sawdust particle machine itself, but also to ensure the personal safety of the operators, so we should attach great importance to it.
zhangqiu city of shandong province developed particle machinery co., ltd., over the years the company focused on pellet machine, sawdust pellet machine, pellet machine production line, biomass pellet machine, crusher, wood processing equipment, drying equipment, cooling equipment and packaging equipment and other products research and development and production, in lineThe tenet of "survival by quality and benefit from development" enables developed machinery to exert its own advantages and gradually expand its scale.
Since its establishment, the company has been awarded every year."Advanced Quality Unit" and "Quality Trusted Unit" and other honorary titles, and was recognized as a national quality, reputation, service AAA-level enterprises, always adhere to the "quality first, reputation first" principle.
In the future, the developed people will make persistent efforts to innovate in technology, continuously develop and develop products that are welcomed by customers at home and abroad, and walk in the forefront of the industry.(sawdust pellet machineadvantage)