The use of biomass pellet machine
---
China has a large amount of agricultural waste during the annual harvest season. Although the country has banned burning, it has not yet achieved good results. The biomass pellet machine can use these wastes, which is not only low in cost, but also helps to reduce environmental pollution and waste of resources caused by straw burning. If the biomass pellet machine production line is used for crop waste such as straw, straw, rice husk, etc., it is generally crushed, and the dryer and pellet machine are arranged according to production efficiency and distributed by 1:1.: 2. One grinder is equipped with one dryer and two biomass pellet machines. The material of the biomass pellet machine loses water during storage, and some high-moisture raw materials are particularly obvious. Biomass particles on
China has a large amount of agricultural waste during the annual harvest season. Although the country has banned burning, it has not yet achieved good results.Biomass pellet machineThese wastes can be used, not only at low cost, but also help reduce environmental pollution and waste of resources caused by straw burning. If the biomass pellet machine production line is used for crop waste such as straw, straw, rice husk, etc., it is generally crushed, and the dryer and pellet machine are arranged according to production efficiency and distributed by 1:1.: 2. One grinder is equipped with one dryer and two biomass pellet machines.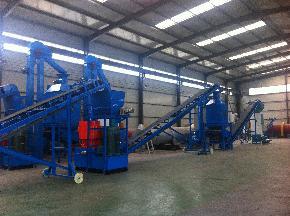 The material of the biomass pellet machine loses water during storage, and some high-moisture raw materials are particularly obvious. Biomass particles are important for water dispersion in the particle process. Typically, the difference between the pelletized and cooled product water is about-1% compared to the raw material moisture. This difference is of concern, so we usually regularly monitor the water content of the mixed semi-finished product. The moisture of the finished granules was analyzed and compared. In order to avoid the loss of biomass particles, it is necessary to control moisture, control loss, first reduce dust, make granulation easy, and reduce energy loss.
Nowadays, the domestic energy conservation and emission reduction policies and green sustainable development economy have entered the peak period, and the biomass energy market will inevitably promote the environmental biological particle machine production line equipment and other industries to usher in new economic growth points.