What are the requirements of biomass pellet machine for raw materials?
---
Zhangqiu City, Shandong Province developed particle machinery Co., Ltd. for many years focused on the development and production of biomass pellet machine, wood pellet machine, price concessions, manufacturers direct supply; product design is reasonable, low energy consumption, high efficiency, convenient maintenance and operation!
Biomass pellet machine,As a specialized fuel pellet machine equipment,For the current energy saving and emission reduction work has played a certain role in promoting. Wood chips, straw, peanut shells, rice husks, bamboo chips, bark and other biomass materials are processed by biomass pellet machines and are made into very dense particles.,This kindThe particles are burning.Time, will not produceSulfide,It only produces carbon dioxide and water.,No pollution to the environment!Today, let's find out,Biomass pellet machineon raw materialsofRequirements.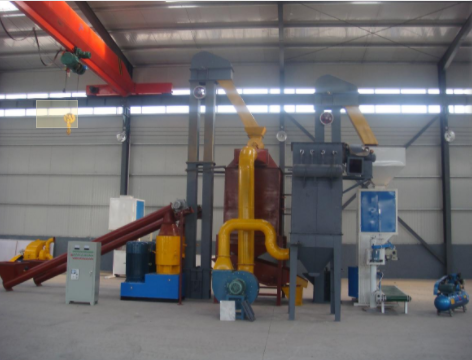 1.Size of raw materials
When the biomass granules are granulated, there are certain requirements for the size of the raw materials. Too large or too small raw materials will affect the output and quality of the biomass fuel pellet machine, and even cause no material or output to reach expectations. Generalof raw materialsSize must be less4MM, but the specific crushing size depends on the size of the required particle diameter.
2. raw materialsThe water content
Biomass pellets are granulated when the raw material isThe water contentThere are also strict requirements, no matter what kind of raw materials,Water contentmust be controlled inBetween 15% and 18%, the higher the phase of the particles, the higher the requirements for raw materials, ifWater content too low, it is possible to dry in and out, and the particles are not shaped.;Water content too high, the particles will easily break or loose.
3.Ingredients of raw materials
Biomass pellet machine for different raw materials can be doped granulation. The biomass pellet machine does not only use one kind of sawdust to make pellets, but also can be mixed with other varieties of sawdust or crude fiber sawdust, and can also be mixed with crop straw, fruit shell, peanut shell, rice straw, etc.However, the incorporation of other materials may have a certain effect on the quality of the resulting biomass particles.
That's what I shared today."Biomass pellet machine for raw materialsofRequirements"I hope it helps everyone!Zhangqiu developed particle machinery co., LTD. For many years focused on biomass pellet machine,sawdust pellet machine,sawdustGranule machine, etcof the equipmentDesign,production,R & D, yesBiomass pellet machineOne of the industry's earlier manufacturers,With strong production experience and technical strength.